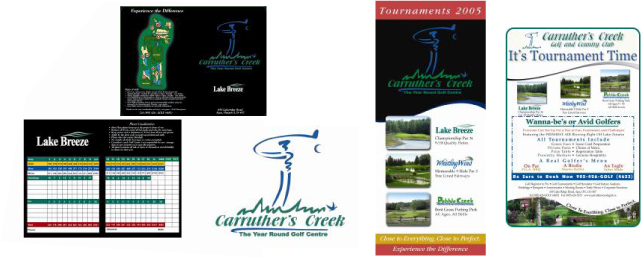 Case Study : Carruthers Creek




Create a logo wordmark and supporting collateral to advertise and draw customers to golf etc.


The venue encompasses 2 nine-hole golf courses, as well as a Banquet Hall. Amateur design has been produced. A professional image is required.




Custom brochures, unique scorecards, a logo and stitching pattern for caps and shirts, ads in local papers and magazines




Design | Photography | Concepts | Data | Print | Package | Distribute

Some of the projects:
Logo Creation
Brochures
Score Cards
Customer Brochure
Winter Contest



Need to Contact Carousel Promotions Group Inc?
Call us, 9-5 EST, Mon-Fri at 905.619.0009
Email us at bonnie@carouselgroup.com
Submit us a smoke signal with a wet blanket
Or you can send us mail and packages at:
1608 Middleton St.
Pickering, Ontario
L1X2L3